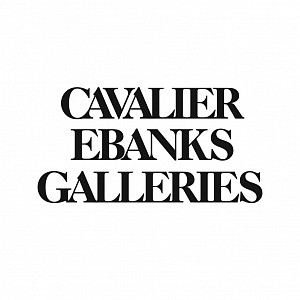 Cavalier Galleries renamed as Cavalier Ebanks Galleries
March 14, 2019 - Cavalier Galleries
Cavalier Galleries is proud to announce the change of our gallery name to Cavalier Ebanks Galleries. This change recognizes and rewards the efforts of long-time gallery director, Lindsay Ebanks, who has helped to expand the company over the past 12 years.

Lindsay Ebanks came to Cavalier Galleries as a Gallery Assistant in 2006, after gaining unique experiences working in museums, galleries, and auction houses in New York and Nantucket. Lindsay went on to accept a position as art handler for Cavalier Galleries, then became a sales associate, and from there rose to become the company's director.

In her role as director, Lindsay has proven herself invaluable, managing every aspect of gallery operations, part of which has included forming lasting relationships with our artists and collectors. Through her dedication to the galleries, Lindsay long ago formed a partnership between Ron Cavalier and herself, making the new name of Cavalier Ebanks Galleries a natural progression for the company.

With the name change to Cavalier Ebanks Galleries, you will still see the ever-increasing standard of quality you have come to expect from our Galleries. Our New York and Palm Beach locations will retain their present names, and the new gallery name will be introduced immediately in our Greenwich and Nantucket locations!
Back to News