PRESS RELEASE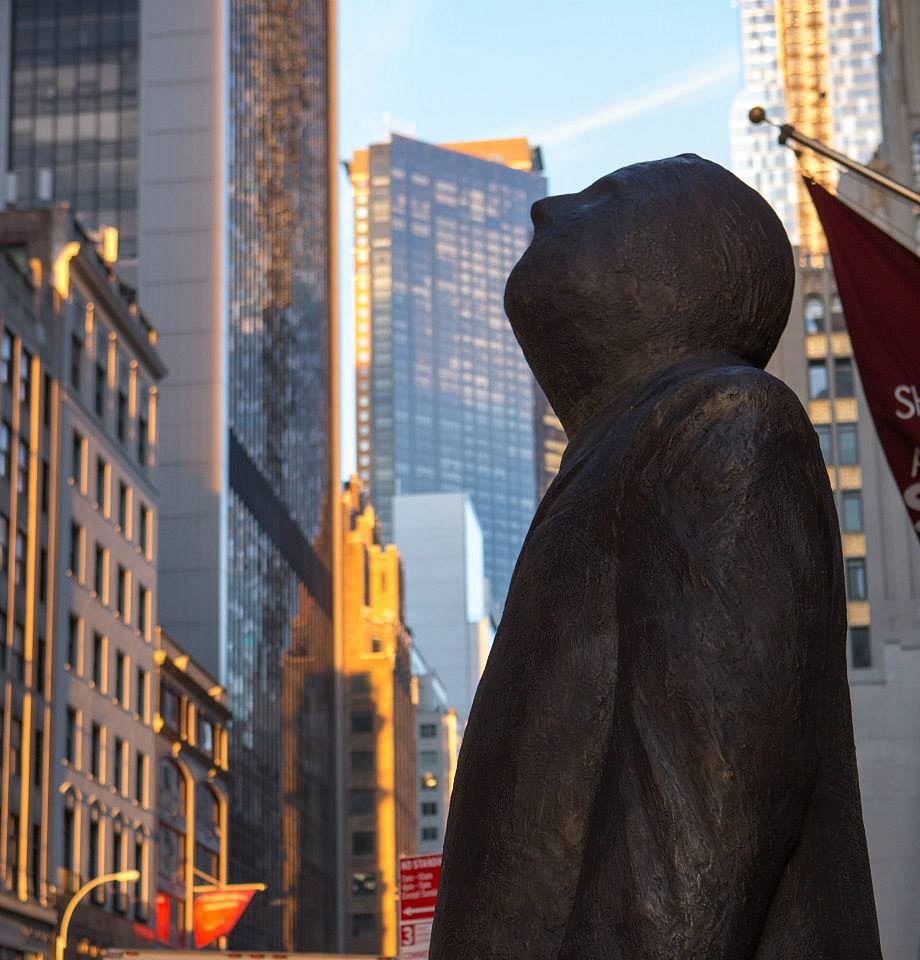 THINK BIG SCULPTURE BY JIM RENNERT ARRIVING IN NEW YORK'S UNION SQUARE PARK
NYC Parks and Cavalier Gallery, in cooperation with the Union Square Partnership, are pleased to reveal THINK BIG by artist Jim Rennert, in New York City's Union Square Park. Located at the park's south eastern triangle, Jim Rennert's heroic, monumental bronze sculpture will be on view June 2014 to May 2015.
THINK BIG stands at over 12-feet tall serving as an inspiration to everyone who works hard every day to achieve their dreams and goals. The monumental businessman gazes up at the sky and the Manhattan skyline, reminding us that if we "think big" we can attain anything and that the American Dream is still very much alive and possible.
Rennert has traveled with THINK BIG across the nation, starting from its inception in Salt Lake City, to Los Angeles and Miami to land in New York City. Installed between 14th and 15th Streets along the east side of the park, THINK BIG will stimulate and encourage viewers to consider his motivational message.
Rennert says, "I'm so thrilled that I have been given the opportunity to exhibit THINK BIG in such a vibrant, creative community. It's been a dream of mine to have my sculpture on public view in New York and I hope the piece is an inspiration to the Union Square neighborhood and the entire city."
"The Union Square Partnership is thrilled to welcome THINK BIG to the district this spring," said Union Square Partnership Executive Director Jennifer Falk. "In addition to our complimentary Wi-Fi service and free community programming for all ages, Rennert's public art installation is sure to captivate and inspire the hundreds of thousands of visitors that come through the neighborhood daily."
Rennert comes from a business background, having made the decision to pursue his career in sculpture over 20 years ago. His works deal with the physical or psychological challenges of the competitive corporate world, often incorporating figures dressed in business attire and symbolic objects such as briefcases and ladders. The titles work with the pieces to solidify the concepts, and sometimes they reflect on the daily struggles and achievements with a sense of humor and irony. His work has become more serious lately, exploring more on our thoughts and beliefs as a society. Businessman or not, everyone can still relate to the themes in their own personal ways. THINK BIG is the culmination of positive thinking, as the original concept started as a two-inch sculpture. Rennert is excited to bring the sculpture to New York so that everyone can indeed, "think big."
Jim Rennert was born in 1958, and grew up in Las Vegas, Nevada, and Salt Lake City, Utah. After 10 years of working in business Jim started sculpting in 1990. He became an expert in the lost-wax casting method, a process that harkens back to Bronze Age, which produces a duplicate metal sculpture from the original sculpture. He began exhibiting in galleries in 1993, and has since gained significant recognition. He continues to exhibit at the major art fairs in Miami, Los Angeles, and New York City, and has been featured in publications such as Sculptural Review, American Art Collector, and The Inquirer and Mirror. His work is in numerous private and public collections, including the Utah Governor's Mansion, Terra Industries, GSL Electric, The Church Museum of History and Art, and the Granite Education Foundation.
NYC Parks & Recreation's Art in the Parks program has consistently fostered the creation and installation of temporary public art in parks throughout the five boroughs. Since 1967, collaborations with arts organizations and artists have produced hundreds of public art projects in New York City parks. For more information visit www.nyc.gov/parks/art.
The Union Square Partnership (USP) is a private, not-for-profit, community-based organization responsible for the revitalization of the 14th Street-Union Square neighborhood. USP's mission is to improve the quality-of-life for the district's residents, businesses, and visitors, by providing public safety, sanitation, marketing and business development services, as well as investing in the beautification and maintenance of Union Square Park. USP also conducts a host of free events for the public, including volunteer days, networking opportunities and "Summer in the Square," a weekly event series in the park. For more information, visit unionsquarenyc.org.
Cavalier Gallery has offered an unparalleled variety of contemporary fine art for over 27 years. The Gallery presents year-round exhibitions of paintings, sculpture, and photography in New York, NY, Greenwich, CT and Nantucket, MA. Owner, Ron Cavalier, has been a strong supporter of public art exhibitions since the gallery's inception, continually organizing large-scale outdoor installations of works by world-renowned sculptors in Connecticut, and Massachusetts. For more information visit www.cavaliergalleries.com