PRESS RELEASE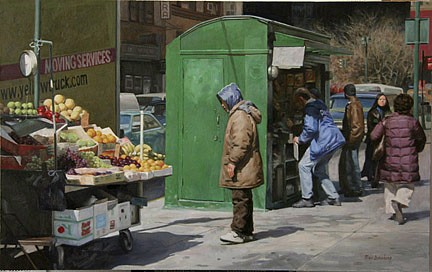 May 11, 2012 - May 28, 2012
CITYSCAPES
A Century of Urban Landscapes
Cavalier Galleries, Inc. is pleased to present a group exhibition of Cityscapes; on view in our Greenwich, CT gallery from May 11 – 28, 2012. The exhibition will cover a variety of artists' representations of urban landscapes from the last century.
Cityscapes in art date back to the first century AD with a rise in popularity of Roman architecture paintings. Originally gaining popularity as background for portraits, the cityscape eventually became an important genre of its own. As cities continued to develop, realistic renderings and aerial views of metropolitan areas throughout Europe became popular subjects. At the height of impressionism, imagery of daily life in the city became a prevalent theme. Over the years artists have also explored the more gritty industrial areas, buildings, and railways as painting subjects. In contemporary art, the American cityscape has become an important part of the documentation of the development of our metropolitan areas. A focus on American industry and the urban skyline have dominated this genre for the last century.
This exhibition will showcase the diversity of the cityscape, ranging from impressionistic Parisian street scenes, to photorealistic present-day scenes of New York City. The exhibition will highlight works by such artists as Nicholas Berger, Antoine Blanchard, Frederick Brosen, Dines Carlsen, Debranne Cingari, Mabel Dwight, Maurice Freedman, Max Ginsburg, Diana Horowitz, Marla Korr, Nina Maguire, Peter Sibley, John Terelak, Frederick Judd Waugh, and Lori Zummo.