PRESS RELEASE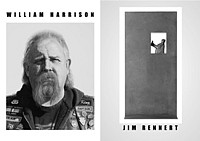 April 20, 2012 - May 6, 2012
William Harrison & Jim Rennert
Exhibition of Recent Works
April 20 – May 6, 2012
Cavalier Galleries, Inc.
405 Greenwich Avenue, Greenwich, CT 06830
203.869.3664
www.cavaliergalleries.com
Cavalier Galleries, Inc. is pleased to present an exhibition of recent works by William Harrison and Jim Rennert. On view in our Greenwich, CT gallery from April 20 – May 6, 2012 will be a series of captivating photorealistic portrait and still-life drawings by Harrison alongside the ingenious bronze and steel sculpture works of Jim Rennert.
With a fine art degree and an extensive background in illustration, William Harrison has entered the fine art world with keen technical skill, and a predilection for unique subjects. During his career as an illustrator, Harrison worked almost exclusively in 'stipple', constructing photo-realistic drawings of food, people and products using only miniscule black dots. Harrison now seeks more stimulating subjects, spending his days visiting motorcycle swap-meets, flea markets, charity rides, etc. and photographing the interesting characters he meets to use as reference in his drawings. Harrison's most intriguing subjects are the men (and women) whose years of exposure to the elements have given their faces tremendous character, often clad in well-worn leather, with deeply lined faces and extravagant beards and mustaches. Harrison's innovative use of his technical skill to immortalize these extraordinary people in his portraits, make for wonderfully fascinating works of art.
Sculptor Jim Rennert's work focuses on his past experiences in the competitive world of business. Mixing the traditional medium of bronze with modern forms of flat laser cut steel, he illustrates concepts of corporate success and challenges of daily work life. Throughout his signature series Rennert references iconic visual representations of the business world, using men in suits, briefcases, ladders, and office buildings to convey the daily struggles and achievements of the contemporary businessman. Rennert composes attention-grabbing works by creating tension and drama with the placement or position of the figure in an environment. The sculptures are not only visually appealing, but viewers also connect on a personal level with the themes presented in his work.