PRESS RELEASE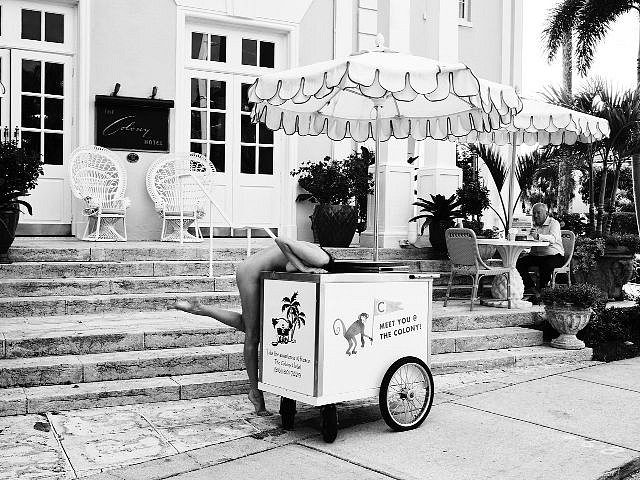 NATHAN COE: Timeless
Palm Beach 2022
March 31 – April 10
Cavalier Gallery
292 S County Rd
Palm Beach, FL
(561) 770-3165
Cavalier Gallery presents "NATHAN COE: Timeless," featuring 9 never-before-seen works by the iconic fine art photographer Nathan Coe.
In this newest series, Coe captures the incomparable island of Palm Beach with an alluring new sense of style. In these images, nude female figures occupy some of Palm Beach's most notable locations, including the Colony Hotel, Le Bilboquet, and Ta-boo restaurant of Worth Avenue, and embody the very essence of the Palm Beach lifestyle.
The figures in these compositions exist in a state of anonymity up against the stunning backdrop of Florida's most exclusive beachfront town. Proceeding with the utmost confidence, the sense of mystery demonstrated by the subjects adds to the provocative nature of Coe's work. The sensuality of the female body is perfectly matched with the stunning, carefree nature of the Palm Beach landscape. Whether diving into the Colony's ice cream cart or basking in the poolside sunlight, the figures in these images emulate pleasure, solitude, and relaxation.
In this body of work, Nathan Coe undoubtedly brings style and glamor to new heights. With a stunning attention to light and shadows, angles and lines, and compositional perspective, these works leave the viewer wanting more. Here, Coe puts forth a cutting-edge grouping of high-style photographs, making up his most innovative body of work yet.
Nathan Coe's previous work includes double exposures and landscape photography, primarily on Nantucket Island and in Palm Beach, FL. His work has been featured in Vogue, Town & Country, Billboard and more. Nathan is a full-time fine art photographer who now splits his time between Nantucket and Palm Beach.
This solo exhibition will run from March 31st through April 10th at our 292 S County Rd location. Please email us at art@cavaliergalleries.com with any questions or to request a complete price list.