PRESS RELEASE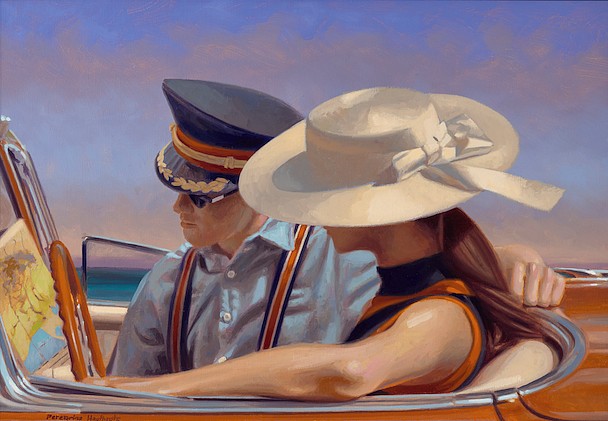 For Immediate Release:
Peregrine Heathcote: Exploring New Places
September 10 – October 11, 2021
Cavalier Ebanks Galleries
10 Federal Street
Nantucket, MA 02554
(508) 325-4405
www.cavaliergalleries.com
The work of Peregrine Heathcote reimagines luxury, style, and adventure directly on the canvas, harkening back to a time of pre-war innovation and design.
These ideas will be the anchor of "Exploring New Places," an exhibition hosted by Cavalier Ebanks Galleries featuring new works by British artist Peregrine Heathcote. Cavalier Ebanks Galleries is proud to present this new body of work at our Nantucket location from September 10th through October 11th.
Exploring New Places transports us back in time to a world of glamour and luxury in the pre-war era. The paintings in this collection evoke the romantic nature of adventure and the endless possibilities of travel by car. The ten new works in the show are both visually and intellectually captivating as they celebrate the iconic style and design of this time period. Heathcote captures what it meant, and in a way still means, to be able to travel, learn, and explore, and to do it in style.
In Unwinding, a woman elegantly leans on the side of a car, resting amid a journey. She looks away from the viewer, following the direction of the winding road ahead, and admires the landscape. In The House by the Sea this figure is accompanied by a man, and parked before the water, it seems they've arrived at their destination. Gazing from behind, the viewer will notice the woman adjusting her hat while they both appreciate the setting before them. Three other works in the collection follow the journey of this same couple as they set out for their adventure and stop along the way, all the while basking in an air of modern beauty.
In another composition, Until the Next Hello, a woman enjoys a moment of rest by the seaside and reads a letter in solitude. Here, a fleeting moment is captured before she returns to her travels. With her red dress, white hat, and bright yellow car, she is the epitome of modern elegance.
These and all other works in the exhibition guide the viewer through a nostalgic journey of the peace, allure, and solitude of travel. As Heathcote says himself, "each painting is a capsule of a moment of imagined reality." These capsules tell stories of the past and leave just enough room for us to construct parts of those stories ourselves.
Please join Cavalier Ebanks Galleries as we celebrate Peregrine Heathcote's newest works at our Nantucket gallery this fall. For images and additional information, please contact us at
art@cavaliergalleries.com
.
BIOGRAPHY:
Born in London in 1973, Peregrine Heathcote graduated from the Florence Academy of Art in 1995 and currently lives and works in Chelsea, London.
He grew up in a very adventurous family, with a father who was an antiques dealer specializing in militaria and a mother in the fashion industry. Heathcote lived in Dubai with his parents in the 1970's where he has the distinct memory of his mother having UK models flown into Dubai for a Vogue photoshoot in the desert. This is just one of the many memories that have inspired Heathcote and his work.
Heathcote's paintings conjure a world of intoxicating style and intrigue, slipping across the boundaries of time to fuse iconic pre-war design with modern conceptions of beauty and silverscreen-era romance. Many of his paintings focus on modes of transportation: planes, trains, and automobiles, all with a distinctly cinematic quality. His love of vintage planes and cars is inspired by his two grandfathers, one of whom was a test pilot for the Royal Air Force and the other who once ran the 20 Ghost Club, the worlds oldest Rolls-Royce car club.
The images could depict a dream world—the pure artistic vision of a painter fascinated with the bygone glamour of his parents' youth and his own childhood spent in Britain and Dubai, but also by the contemporary incarnation of sophistication in an international jet-set culture. He is inspired both by his own travels and by the modern culture of international travel.
Some images are literal representations of actors on movie sets, while others are real-life models letting their contemporary sensibilities peek through as they pose against period backdrops. Regardless, each canvas suggests a story, prompting us to imagine the circumstances around a single crucial scene. Heathcote purposefully leaves such questions open, allowing us room to construct multiple narratives. This weaving in and out of various realities, blending the real and unreal is achieved with great skill, imagination, and ingenuity.
In addition to his timeless scenes of glamourous travel, Heathcote has also been commissioned for several portraits of executives, aristocrats, and socialites. The BBC have also recently filmed a documentary on Peregrine's portrait painting, which has been aired worldwide.
Most recently, he was commissioned to paint a series of works celebrating and promoting Ralph Lauren's 2020 Spring collection.
Heathcote's paintings have been shown at the Royal Society of Portrait Painters, the Royal Academy, and are collected and exhibited all over the world.