PRESS RELEASE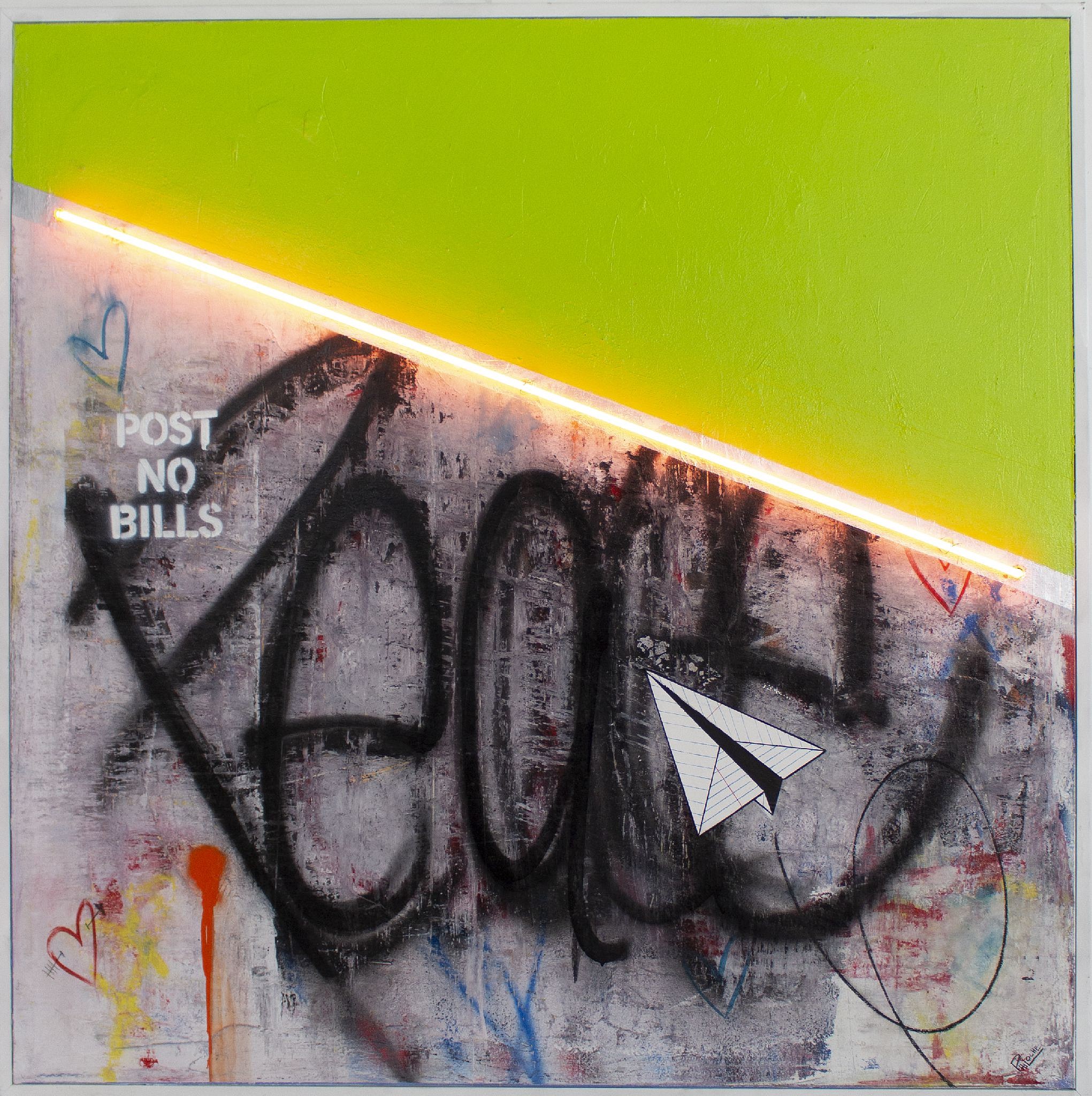 GUY STANLEY PHILOCHE
Come Fly With Me
October 24 - November 17, 2019
3 West 57th Street, Ground Floor, New York, NY 10019
(212) 570-4696

OPENING RECEPTION: Thursday, October 24 from 6-8pm

Cavalier Gallery is pleased to present Come Fly With Me, an exhibition of new mixed-media paintings by Guy Stanley Philoche. This body of work features lively, layered surfaces inspired by city walls, built up with paint representing traces of wheat-pasted posters, advertisements, tagging and graffiti, which are contrasted by solid blocks of color that balance the energy in the composition. Crisp paper airplanes and butterflies made from collaged reproductions of dollars and euros appear within the paintings, adding another imaginative dimension to the work, while neon light brings a new element of urban life to the canvases. Philoche's playful style is evident not only in his use of various textures and mediums, but also in the shape of his canvases; the artist often works on circular canvases and other unusual surfaces.

Guy Stanley Philoche was born in Haiti, immigrating at age 3 to Connecticut where he was raised. Philoche studied art at the Paier College of Art in Connecticut, as well as at Yale University, and now lives and works in New York City. Philoche's work has been exhibited in galleries and art fairs throughout the US and is included in several notable corporate and private collections. We are pleased to welcome this talented artist to our gallery roster, with his first one-man show in our Ground Floor gallery at 3 West 57th Street!

The show will also feature the black and white photography of Udo Spreitzenbarth, specifically his series of Guy Stanley Philoche in his studio. Spreitzenbarth is an international fashion, beauty and art photographer with work featured in international issues of Vogue, Harper's Bazaar, Elle, Marie Claire, Cosmopolitan and more, and successful exhibitions in New York, Berlin, Cologne, Frankfurt, Shanghai, and Beijing. Spreitzenbarth has photographed notable figures such as Guy Stanley Philoche, Jeffery Wright, Meg Ryan, Tyra Banks, Salma Hayek, John Legend and more.

For additional information or images, please contact Anna Gillis at anna@cavaliergalleries.com or (212) 570-4696.


Please enjoy this online video preview of "Come Fly With Me", with commentary by Guy Stanley Philoche.