BIOGRAPHY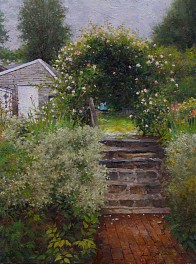 Chinese, b. 1957
Li Xiao was born in 1957 in Shanghai, China. Xiao commenced showing interest in the fine arts at a very young age and has been consistently developing his talent as a painter ever since. Given the long standing tradition of medical doctors in the Xiao family, Li's parents expected him to become an M.D. Eventually, however, given Li's talent, persistence and passion for painting, his parents began supporting his activities in the fine arts. Under the instruction of Mr. Ha, a nationally acclaimed artist, Li received technical training. He then attended the Children's Fine Arts Group, had numerous exhibits and received rewards in many different categories.
In 1976, he attended the Shanghai School of Fine Arts, where he honed his skills as an oil painter. After three years of strict training, he graduated with excellence and became a member of the Shanghai Youth Artists Association. In the late 1970's, Xiao attended an exhibition of nineteenth-century French paintings in Shanghai. This exhibit greatly influenced his artistic career.
In 1984, after passing a competitive exam, he entered the College of Fine Arts of Shanghai University where he studied the works of the great American, French, German and Spanish masters. This experience enhanced his knowledge of European art history as well as helped to fine tune his technical skills. In 1985, his painting Unusual Guests was exhibited in the collection of the Dammark Royal Gallery. In 1986, his painting Wander, which now resides in a private collection, was displayed in Japan's ninth International Artists Exhibition where it was highly appraised by the media. This same year, Xiao's paintings were exhibited in the New York City Hunter College exchange exhibition.
In 1987 Xiao came to the United States to attend the school of the Museum of Fine Arts in Boston where he studied under Mr. Barney Rubinstein. That same year, he also had a show in Worcester, Massachusetts. In 1990, Xiao had a solo show at the AT&T festival of Asian Art. He has also exhibited in Boston, Scottsdale, and New York City.
For years, Xiao has created paintings with a variety of different subjects, including figurative works, landscapes, still lifes and portraits. Nature is a constant source of in inspiration for Xiao, who travels great distances to find the perfect setting for his paintings.
Exhibitions:
2015 Marine & Maritime Masters Cavalier Galleries, Nantucket
2015 Palm Beach Art, Antique and Jewelry Show Palm Beach, Florida
2015 Naples Art, Antique and Jewelry Show Naples, Florida
2014 Contemporary Realism Cavalier Galleries, New York City
2014 Winter Group Show Cavalier Galleries, Greenwich
2013 Small Works Exhibition Cavalier Galleries, Greenwich
2013 Greenwich Arts Council Greenwich Arts Council
2013 Palm Beach Art, Antique and Jewelry Show Palm Beach, Florida
2013 Naples Art, Antique and Jewelry Show Naples, Florida
2013 Figurative Group Show Cavalier Galleries, Greenwich
2012 Summer Group Show Cavalier Galleries, Greenwich
2012 Spring Group Show Cavalier Galleries, Greenwich
2012 Recent Works Cavalier Galleries, Greenwich
2011 Small Works Exhibition Cavalier Galleries, Greenwich
2011 Recent Works Cavalier Galleries, Greenwich
2010 Small Works Exhibition Cavalier Galleries, Greenwich