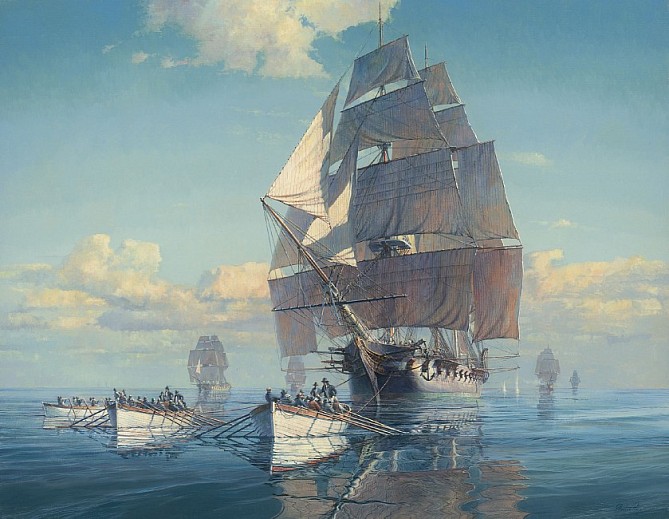 Maarten Platje: The Early History of the U.S. Navy, Now Open at the Channel Islands Maritime Museum [Oxnard, CA]
January 9, 2019 - Cavalier Galleries
The newest paintings on exhibit at the Channel Islands Maritime Museum are by a Dutch artist who finds visual inspiration in American maritime history. Painter Maarten Platje's ambitious plan resulted in fifteen paintings depicting important historical events and sea battles. These paintings will be on display at the Channel Islands Maritime Museum January 9 through to March 25, 2019. An opening reception is planned for Wednesday, January 9, 5:30PM-7:30PM. Free for Museum Members, $7 Adults, $5 Seniors/Military/Students, $3 6-17 years and free for children under 6.
Born in Rotterdam, The Netherlands, in 1967, Maarten Platje studied at the Ars Aemula Naturae Art Academy in Leiden. In addition he attended several artistic courses and studies.
After his studies, Maarten Platje spent part of his youth as a sailor before devoting himself to the painting of ships. This period certainly contributed to his ability to transform his impressions and observations into highly accurate and lively marine paintings.
Maarten Platje began exhibiting his work in 1986 and built a reputation as an outstanding marine painter. Several times his work was awarded and many of his paintings were shown to the public at exhibitions and major Dutch annuals (i.e. Europoort Amsterdam and the Maritime Manifestation Vlissingen). His paintings have also been used as illustrations for book covers and in the leading Dutch marine magazine 'De Blauwe Wimpel'.
In 1996 Maarten Platje was officially invited by the Royal Dutch Navy to embark on a frigate during NATO operations in the Mediterranean waters around the former Yugoslavia. He followed in the steps of the famous Dutch marine painter Willem van de Velde (1611-1693), the official artist for the Dutch Fleet in his time. This embarkation resulted in a series of paintings illustrating various maritime actions and naval operations. The paintings are on a permanent display at the Naval Museum in Den Helder and at the Museum of the Marine Corps of the Royal Netherlands Navy in Rotterdam.
In the early eighties, Platje developed a strong preference for maritime and aviation art. Since the nineties, he has mainly focused on maritime topics. By carefully investigating all of his painted subjects, Platje is able to depict historic topics with a stunning level of detail. Maarten Platje's marine paintings are carefully-orchestrated compositions created from an assembly of several old pictures, old drawings and ship models discovered at antique stores or placed at his disposal from private collections.
Click here to view the Museum exhibition page
Back to News