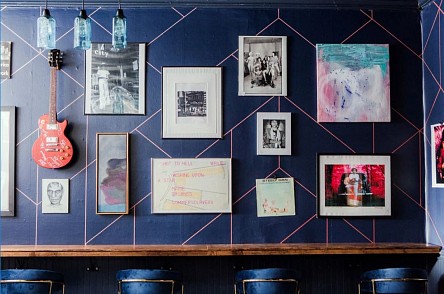 Max's Kansas City Reborn for Los Angeles Art Fair Featuring Francine Tint
February 15, 2019 - The New York Times
Is Los Angeles ready for the inaugural Frieze art fair this weekend?
Some 70 galleries, including local favorites like the Night Gallery and global powerhouses like Gagosian, will have booths at Paramount Pictures Studios from Feb. 15 to Feb. 17. (There is also a V.I.P. day, Feb. 14.)
While the Los Angeles contemporary art scene has boomed in recent years, it's not clear whether the city can sustain an art fair of this scale. Perhaps in a bid to import some bohemian cred, a replica of Max's Kansas City — the infamous New York clubhouse where Andy Warhol, David Bowie and John Lennon gathered in the 1960s and '70s — will also be staged at the fair.
Lending her charm to the space is Yvonne Sewall, 73, a former waitress who married the club's founder, Mickey Ruskin. She now lives in Kingston, N.Y., where she runs the Max's Kansas City Project, a charity that gives emergency grants and assistance to artists in need.

During Frieze, Ms. Sewall will sell art, rock memorabilia and photographs that regulars gave her. (Proceeds benefit her foundation.) She'll also be on hand to regale visitors with stories. We caught up with her last week to get a sneak peek.

What pieces will be auctioned off at Frieze?

I like Anton Perich's photograph of the New York Dolls at Max's. He probably has more photographs than anybody of this place, and this one is fabulous. Anton was a busboy at Max's. Mickey didn't let people take photographs in there for a long time. He wanted people to feel like this was their living room and they could party, which is why there aren't that many.
I love Bob Gruen's Max's Kansas City Album Covers. We have the one with the kids in front of it. I also love the Larry Bell watercolor. There is something about this particular work. It's very subtle, but it really speaks to me.

Francine Tint's work "Exit Ghost" is amazing. We have been friends for a long time. These people are all my extended family. I love all of them for different reasons.
"Exit Ghost" is pictured in the top right
Back to News