BIOGRAPHY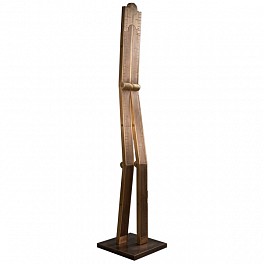 American, b. 1966
Sculptor Peter Kirkiles stresses that the inspiration for his metal sculptures comes from the satisfaction of the process of fabricating a piece in a skilled manner and from his attraction to everyday objects and their relationship to humans. He finds beauty in the utilitarian tools, and objects that we may not notice in our day to day lives. By playing with their size and their proportion to human scale, he forces the viewer to examine more closely the object's construction and its overall design importance. He has a nostalgia for well designed, well used, history laden objects.
"I'm a maker; I'm also an admirer of things well made. Over the years, I've chosen to make things that I love. I find the subjects of my sculpture in real life; a shoe, a camera, a clock, a ruler…made to scale, as sculpture." –Peter Kirkiles
Kirkiles holds a Bachelor of Fine Arts from Tufts University, School of the Museum of Fine Arts, Boston, Massachusetts and a Masters of Fine Arts from Cranbrook Academy in Bloomfield Hills, Michigan. He has exhibited nationally including a 2021 solo exhibition "At Scale" at the Shelburne Museum, Shelburne Vermont. His work is held by The Shelburne Museum, The New Britain Museum of American Art, New Britain, CT and by private collectors throughout the US.
*****
Peter Kirkiles' sculptures are visual odes to everyday objects. He is a maker's maker, a master craftsman, a lover of well-constructed things. He has a special affinity for things well-used, that have stood the test of time and remain steadfast in their intended purpose, that bear the marks of labor and living, that contain echoes of humanity: an antique chest of drawers, a well-worn shoe, a metal whistle, all sorts of folding rules.
A highly skilled fabricator with an expertise in metalsmithing, Kirkiles' art is deeply informed by his years of experience working at foundries where, as a young man, he learned to bring other artists' visions to life in monumental scale, as well as by decades of traveling the country restoring and conserving works of art as part of an expert team of art conservators and materials scientists. At home in his own studio, Kirkiles does everything by hand, from design concept to bronze casting, from carving, molding, and welding, to patina and pedestal. He revels in the process, and it is this love of making that brings his work to life, each sculpture an homage to the original maker of the object that inspired it, or sometimes to the person who used the object itself. Such is the case with Kirkiles' 3-foot-tall bronze and steel sculpture titled Calder's Pliers, which is a tribute to fellow artist Alexander Calder's favorite tool for creating his world-renowned mobile sculptures.
While one may look at some of Kirkiles's work—such as an absurdly large, wall-mounted whistle made of bronze with a wood burl—and think of pop art, or encounter one of his life-size folding rules that seems to be posed mid-stride and think of abstract figuration, Kirkiles maintains that it is a fidelity to the original object and its specific characteristics that is the raison d'etre of his work. Devoid of their function, the objects that inspire the artist are recreated as pure form, elevated as art, forcing the viewer to consider them anew. Kirkiles' sculptures often evoke nostalgia for simpler times, or memories of a similarly beloved object. They question our relationships with the things we own, especially utilitarian items, and call us to a greater awareness of the material culture that comprises our personal worlds. What beauty can be found in a single shoe that cannot be worn, a dresser with only a façade of drawers, a train car that cannot transport, or a ruler whose measurements are wholly inaccurate? For Peter Kirkiles, the answer is contained within his art.
EDUCATION
1998 M.F.A., Cranbrook Academy of Art, Bloomfield Hills, MI
1989 B.F.A., Tufts University, Medford, MA / School of The Museum of Fine Arts, Boston
EXHIBITIONS
2023
Washington Art Association & Gallery and Spring Hill Vineyard, "70 Years of Art at the Washington Art Association," Aug 5–Oct 1, 2023
Cavalier Gallery, NYC, "True to Form: Works by 20th and 21st-Century Sculptors," June 8–July 8, 2023
The Palm Beach Show, Feb 16–21, 2023
Art Palm Beach, Jan 26–29, 2023
Cavalier Gallery, NYC, 24th Street Inaugural Group Show, Jan 10–Feb 25, 2023
2022
Cavalier Ebanks Galleries, Greenwich, Fall 2022 Featured Works
Edgewater Gallery, Middlebury VT group show "Tools of the trade"
2020 - 2021
The Gallery at 4 India, Nantucket MA, Red Truck (ongoing)
Shelburne Museum, Shelburne Vermont, "At Scale", Solo outdoor sculpture exhibition, June 2 - Oct 11, 2021
2019
Jeffrey Tillou Antiques, Litchfield CT. (Solo show)
Flying Horse Outdoor Sculpture, Pingree School, Hamilton Mass.
Studio 80 + Sculpture Grounds, Old Lyme CT.
Sculpture Now 2019, at The Mount, Lenox Mass.
2018
Standard Space Gallery, Sharon, CT, "All things being equal", March 17- April 29, 2018 (Solo show)
Aldrich Museum of Contemporary Art, Ridgefield, CT. Aldrich Undercover
EBK Gallery, CT Contemporary, Silvermine Art Center group show Oct 14 - November 10, 2018
Washington Art Association, Maquette: The Art of the Model, Aug.11-Sept. 15, 2018
Washington Art Association, Sculpturewalk 2018, July 1 - November 1, 2018
2017
Salomon Contemporary, Hazy Shade of Winter, Washinton Depot, CT, Nov. 18- Dec 18, 2017
CCSC Art Gallery, New Britain, CT, "Off The Wall" Sept 7-Oct 7, 2017
Silvermine Arts Center, New Canaan, CT. Three sculptures (www.ebkgallery.com)
Delamar Hotel Commision, West Hartford CT. Land, Sea, Air
2016
Mattatuck Museum, Waterbury, CT, Bernard Pliers
Salomon Contemporary, Lake Life, Aglia
Diane Birdsall Gallery, Four Columns Inn, Newfane, VT, Zig Zag Rule, "Tools of the trade"
Corey Daniels Gallery, Wells, ME (Summer 2016, group show)
The Gallery, Morris, CT, Slaiby's General Merchandise (February 20- April 2, 2016)
2015
Washington Art Association, Washington Depot, Ct, Singular Perspective
EBK Gallery, Hartford, CT, Sculpture, June 16 - 30 2015 (Solo show)
2014
Tremaine Gallery, Hotchkiss School, Sharon Twin Oaks Benefit, Log Rule, Twin Folding Rules 1&2
Bushnell Plaza Sculpture Garden, Hartford, CT, Bushnell Segment (red), Joan Hurwit curator
Hubert Gallery, www.hubertgallery.com, select works
Scope Basel Art Fair, Diane Birdsall Gallery
Cutlog Art Fair, Diane Birdsall Gallery, (May 8-11, 2014)
Diane Birdsall Gallery, Old Lyme, CT (March 1 - April 1, 2014) (Solo show)
2013
O.K. Harris Works of Art, New York, NY. Mixed Lot (Solo show)
Connecticut Sculptors at The Governor's Residence, Four Colorful Rules, No.38,39,40, & 41
Palm Springs Art Fair, Eckert Fine Art, Millerton, NY. Ivory Rule No.23
2011-2012
The Morrison Gallery, Kent, CT. Chris Armstrong and Peter Kirkiles
Aldrich Museum of Contemporary Art, Ridgefield, CT. Aldrich Undercover
Big Town Gallery, Rochester, VT. Vertical Rule No. 26
art-MRKT Hamptons, Eckert Fine Art, Millerton, NY. Vertical Rule No. 19
Diane Birdsall Gallery, Old Lyme, CT. Folding Rule No. 13: One Equals One (Solo show)
2010
The Morrison Gallery, Kent, CT. Bevel Square: Art Garage Benefit
Sculpture Now, Lee, MA. Handplane No. 1
2009
Diane Birdsall Gallery, Old Lyme, CT. Obvious (Solo show)
Ober Gallery, Kent, CT. Spring Selections
2008
Morgan Lehman Gallery, Lakeville, CT. Three Hours: Concession/Recession
Bachelier Cardonsky Gallery, Kent, CT. Paris–New York-Kent
Wassaic Project, Wassaic, NY. Twelve Foot Folding Ruler
1991-2005
Creative Arts Workshop, New Haven, CT. Public Easel
1998
SOFA New York, New York, NY. The Yaw Gallery Functional Vase Project
Cranbrook Academy of Art, Bloomfield Hills, MI. MFA Thesis Exhibition
1994-95
Chester Gallery, Chester, CT. two sculptures outside
1992-94
Aldrich Museum of Contemporary Art, Ridgefield, CT. Chest of Drawers
AWARDS
2014 Finalist, MIT List Center for Visual Art - Percent For Art Program, 36 Foot Rule, Nanotechnology Building
WORKSHOPS / RESIDENCIES
2019 Crown Point Press, San Francisco, CA July 2019 , one week etching workshop.
SELECTED COLLECTIONS
Joyce and Myron Laban. Bloomfield Hills, MI
George Beylerian. Kent, CT
New Britain Museum of American Art, New Britain, CT
Charles Mallory, Greenwich, CT
Paul Kelenian, Santa Fe, NM
The Shelburne Museum, Shelburne VT